Press Release: World Mode Malaysia. A Leading Japanese Fashion Retail Consultancy Has Arrived in Malaysia
WORLD MODE HOLDINGS Co., Ltd. (hereinafter referred to as WMH; headquarters: Shibuya-ku, Tokyo; CEO: Shinsuke Kafuku) established a local subsidiary in Malaysia in November 2022 to provide a wide range of consulting services centered on professional support for hiring and training human resources for the fashion and beauty industry in Malaysia. The company begins full-scale operations in February 2023 and start providing services.

Economic Growth and Challenges in Malaysia
Malaysia is currently attracting attention as a market that continues to grow steadily, driven by strong domestic demand. Further economic growth in the future will depend on a variety of risk factors, such as rising global prices, but one of the top medium- to long-term challenges is addressing labor-related issues. For many years, low wages and low standards of employment practices without adequate training have persisted in Malaysia, resulting in a high employee turnover rate that has become a problem. In addition, although efforts have been made to attract investment, these efforts have not led to the development of local human resources, improvement of skills, or development of local companies as expected. The government wants to attract more investment in high value-added industries, but there is a mismatch in the lack of human resources with the appropriate skills. Securing and developing human resources is considered essential for Malaysia's future economic growth, and the government is focusing its efforts on this issue.
WORLD MODE MALAYSIA's services to address human resource challenges in the retail industry
WMH is a group company with operating companies in various specialized fields, mainly in the fashion and beauty industry, including employment, education, training, marketing, VMD, and store operations. The synergy of these highly specialized companies enables us to provide highly effective solutions to our clients' issues.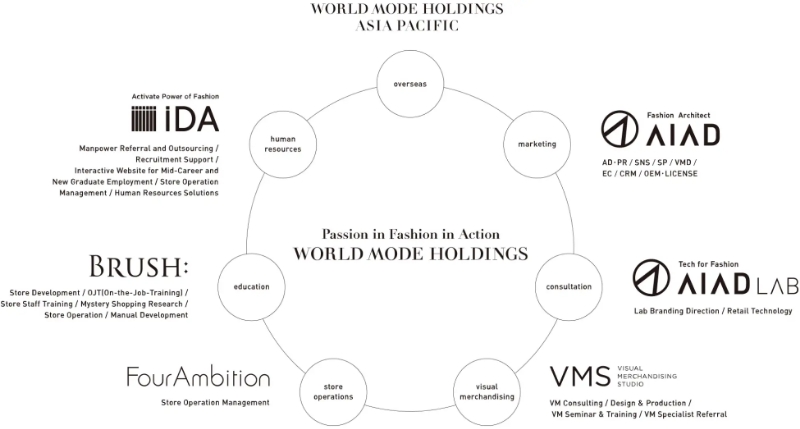 WORLD MODE HOLDINGS Group
In November 2022, WMH established its fifth overseas subsidiary, WORLD MODE MALAYSIA ("WM Malaysia"), which will start full-scale operations in February 2023 and begin providing services. WM Malaysia will provide a wide range of consulting services in addition to support for the development of the Malaysian retail industry by leveraging the WMH Group's experience in the fashion and beauty industry, including the provision of trained human resources and support for improving staff skills.
Services provided by WORLD MODE MALAYSIA
Comprehensive human resource and consultancy services
In addition to hiring, WM Malaysia will focus on comprehensive human resource services ranging from store operations representation, human resource development programs, career guidance, training and coaching for retail professionals. In addition, we also offer a wide range of consultancy services to support omni-channel retail organizations with solutions ranging from VMD, digital marketing, consulting services, and retail technology.

MyBRANDS, a job search website specializing in the fashion and beauty industry
MyBRANDS, a job platform currently used by a number of major brands and registrants in Japan and Singapore, is now open in Malaysia (scheduled to open in April). The platform will be expanded to other APAC countries in the future, and the database of registered candidates will be expanded.

Supporting clients' business expansion and branding by responding to the digitalization of retail
Provide an e-learning platform and cutting-edge retail technology, along with customized learning programs online and offline to provide a one-stop solution for talent development issues. The system is easy to install and access throughout APAC, and supports learners in improving their skills with a steady learning management system. It also provides a human flow data analysis platform in stores that utilizes AI and other technologies to improve store efficiency based on quantitative data.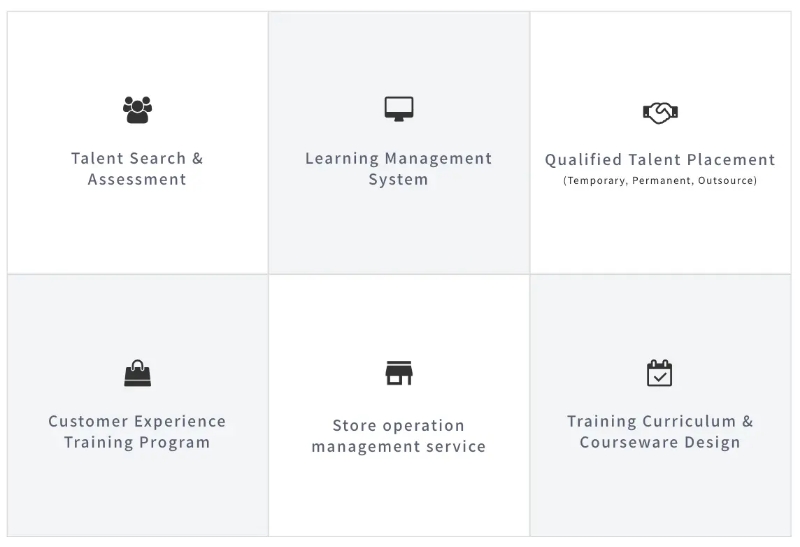 Services provided by WORLD MODE MALAYSIA

Establishment of WORLD MODE MALAYSIA
Shinsuke Kafuku, President and Representative Director, WORLD MODE HOLDINGS Co.
"WORLD MODE HOLDINGS has a track record of introducing approximately 120,000 sales staff to our 1,200 client companies, mainly in the fashion and luxury industry, and has the top share in Japan's human resource services. Hiring and developing professional talent in the retail industry has always been a key business area for WMH. With our expertise, we hope to instill in Malaysia the concept of a 'working dream' for sales professionals to achieve success in their careers and provide the support to make it a reality."

Managing Director, iDA Singapore (iDA'SG) /
Angeline Yap, Director, World Mode Holdings Asia Pacific
"WORLD MODE Malaysia's vision, in line with WORLD MODE HOLDINGS's mission, is to develop the retail industry by providing world-class services through the strategic recruitment and training of professional retail talent. By the end of 2023, we hope to have a community of about 1,000 skilled retail professionals, providing career guidance and up-skilling services and development. We always have a triple-win goal. First, to upskill and develop our retail workforce. First, we want to improve and develop the skills of our retail personnel, especially those who can practice omotenashi, the art of hospitality that brings high quality customer service. Second, to help our retail clients improve their business and branding to generate profit. Thirdly, to improve the customer journey in the stores so that customers keep coming back. We have these goals in mind for Malaysia, as well as for Singapore and other markets."


[About WORLD MODE HOLDINGS (WMH) ]  https://worldmode.com/en/
A group specializing in the fashion and beauty industry and providing various solutions such as human resources, digital marketing, and store representation. iDA, BRUSH, AIAD, AIAD LAB, Four Ambition, VISUAL MERCHANDISING STUDIO, six domestic operating companies The group has six domestic operating companies, iDA, BRUSH, AIAD, AIAD LAB, Four Ambition, and VISUAL MERCHANDISING STUDIO, and five overseas offices in Malaysia, Singapore, Australia, Taiwan, and Vietnam, providing highly effective solutions to customer issues through the synergy of their highly specialized expertise.

[About WORLD MODE MALAYSIA (WM Malaysia)]  https://wm-malaysia.com/
WMH Malaysia is the fifth overseas office of the WMH Group and was established in Kuala Lumpur, Malaysia as a wholly owned subsidiary of WORLD MODE HOLDINGS ASIA PACIFIC PTE. Leveraging the Group's expertise, WM Malaysia will provide professional support and consulting services for employment and human resource development to the Malaysian market.
WM Malaysia consists of the following two companies in response to local laws.

WORLD MODE CONSULTANCY MY SDN. BHD. (consulting, store operation representation, training)
AGENSI PEKERJAAN WORLD MODE MALAYSIA SDN. BHD (Human resource introduction, job site)
Location: Level 16, Pavilion Tower , Jalan Raja Chulan, 50200 Kuala Lumpur
For inquiries about WM Malaysia, please contact
World Mode Holdings International Business Headquarters  https://global.wmh.co.jp/contact