Press release: VMS lectures Visual Merchandising for Taiwan Shih Chien University Students.
Learn visual merchandising that can be used in the field
Visual Merchandising Studio Co., Ltd. (Headquarters: Shibuya-ku, Tokyo, Representative: Kenichiro Hotta, hereinafter referred to as VMS), which handles everything from visual merchandising consulting to implementation, held visual merchandising (VM) lectures for Taiwanese students studying fashion at Taiwan Shih Chien University. The lecture was given on the know-how and knowledge of VM that can be used in the field.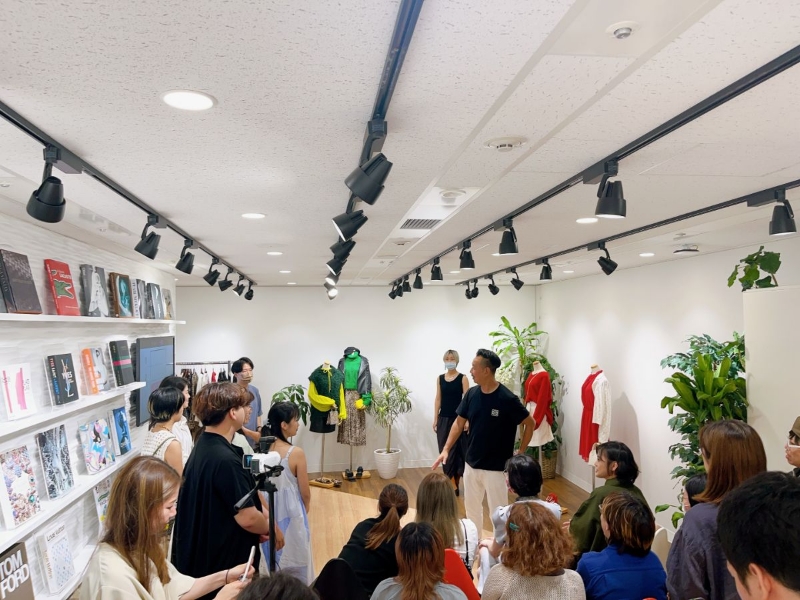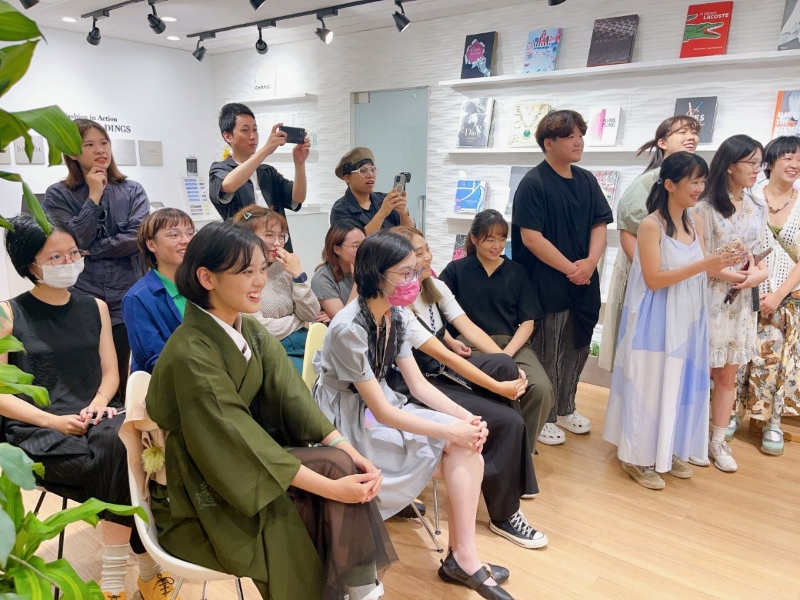 "VM" of VMS = Visual Merchandising Education for Taiwanese Students
Since 2020, VMS has opened the "VMS Academy" for the purpose of training "professional" visual merchandisers, and promotes the training of many visual merchandisers who are active in international and domestic brands.
In addition, Mr. Hotta, President & Representative Director of VMS, has been actively interacting with various educational institutions, such as conducting a modern and global level "VM special course" for students at universities and fashion colleges.
Taiwan Shih Chien University is a private comprehensive university established in 1958. With campuses in Taipei and Kaohsiung, it has 33 departments in 5 academies such as design, commerce, and culture. In particular, departments such as fashion design, architectural design, industrial design, communication design, and fashion management are well known. And they are focusing on providing various learning opportunities for students, such as overseas training.
This time, the lecture by VMS has been coming true, because the lecturer of the fashion design department has long been interested in the educational activities of VMS, which focuses on VM education through lectures at VMS Academy and universities.
"What is the current VM standard?" Lecture to encourage awareness
The lecture was held at the World Mode Holdings headquarters in Japan as part of a study trip to Japan, and was attended by 16 students studying in the fashion design department. Mr. Hotta gave a lecture with the aim of raising their awareness and getting them to know the "current" VM standard.
In the first half of the lecture, he not only covered the basics of VM, but also showed changes in the current visual merchandising trends and how to encourage customers to visit the store using VM as a starting point. He explained with the examples he has worked on so far.
Furthermore, during the lecture, Mr. Hotta asked the students many questions, such as, "What should the store be most careful about around the 'entrance' in order to encourage customers to enter the store?" This allowed the students to think for themselves and deepen their understanding through interactive lectures.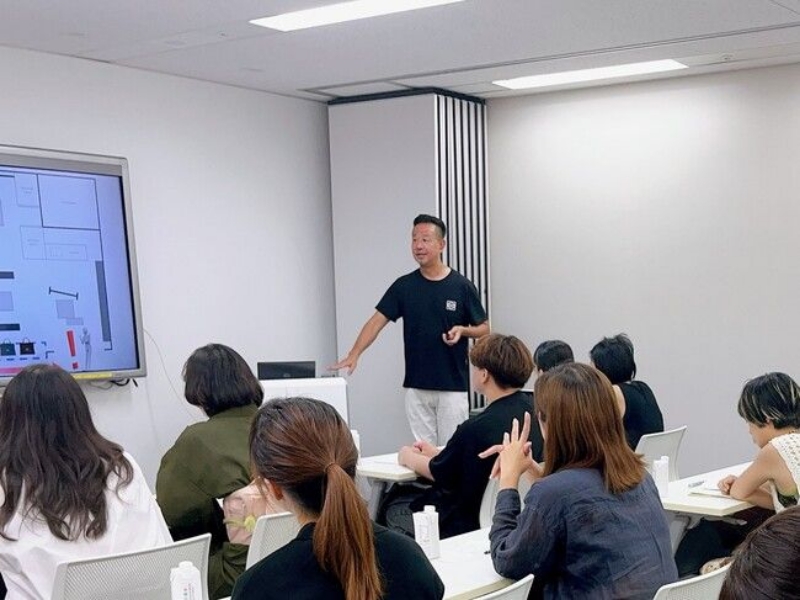 Practice what you have learned and learn through experience
In the second half, he conducted a workshop to put into practice what the students had learned in the first half. They were divided into four teams, and under the theme of "creating customer leads into the store from the outside," they completed their own "expressions" using torsos and various tools.
The students listened intently to comments from other students and VMS members who are active visual merchandisers, about their ideas and evaluations of the displays.
The students said, "This is the first time I've learned how to combine 'logic' and 'magic'!!" And, Ms. Dong Yahuei, a lecturer who was leading the students, also commented on the VMS lecture, saying, "Students are very happy with this unprecedented lecture. I wish more students to experience this kind of lecture!".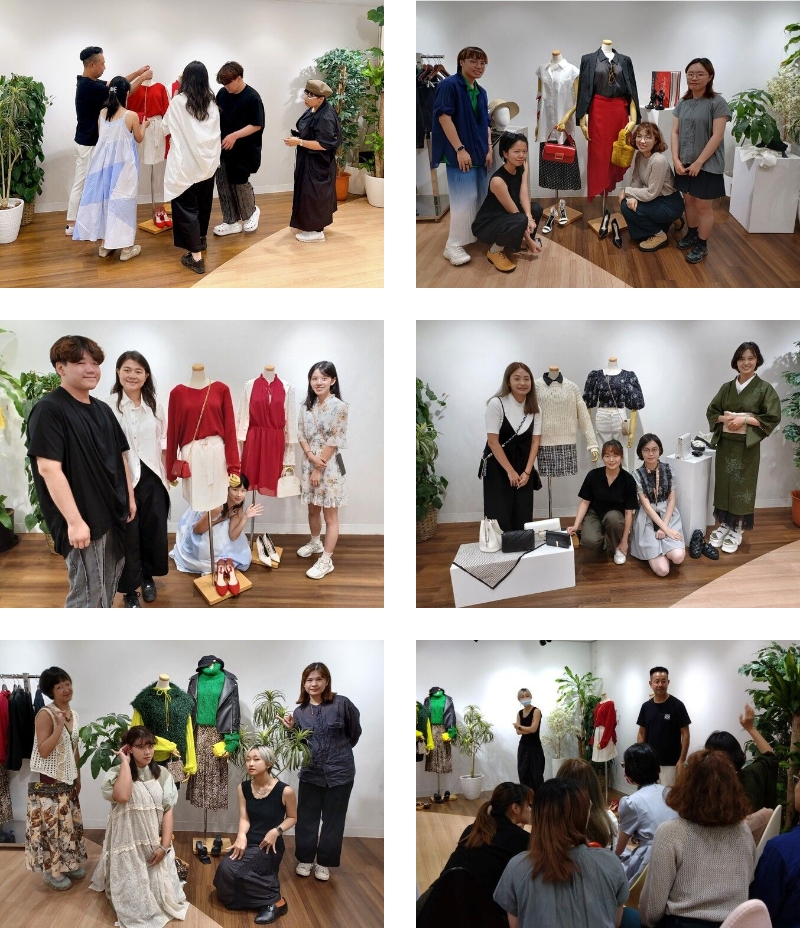 ---
Passion for Human Resource Development
Kenichiro Hotta, President & Representative Director of VMS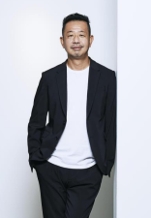 I want more young people to feel that the fashion industry is an attractive industry. I believe that if you can learn the new "VM = visual merchandising" necessary for the modern fashion scene, you will be able to take many wonderful actions in your own activities and store management. It also means that you can expand your options for the future.
I and the staff of VMS stand at the forefront of the fashion industry every day and experience it, and I can convey the "now" that is actually happening in the field. That's why I think it makes sense for us to teach at educational institutions and lectures like this.
About Visual Merchandising Studio (VMS) Co., Ltd.
A group company of World Mode Holdings, established in 2019. VMS provides a wide range of solutions in the field of Visual Merchandising (VM), including consulting, construction, original fixture development, and training. They propose creating sales spaces that appeal to the visual senses without being confined to the traditional framework of VM. In September 2020, VMS launched the "VMS Academy" to cultivate VM professionals and focused on education by establishing the "VMD Online Salon" to disseminate VMD (Visual Merchandising and Display) information.