Press release: World Mode Holdings launched the working in Japan support service for Vietnamese.
WORLD MODE HOLDINGS Co., Ltd. (hereinafter referred to as WMH; headquarters: Shibuya-ku, Tokyo; CEO: Shinsuke Kafuku), together with People Link Joint Stock Company (hereinafter referred to as People Link), a subsidiary of the WMH Group, launched an employment support service in March 2023 to provide full support for Vietnamese nationals seeking employment in Japan. WMH will provide retail human resources to meet the needs of the rapidly growing number of inbound travelers to Japan, especially from ASEAN countries.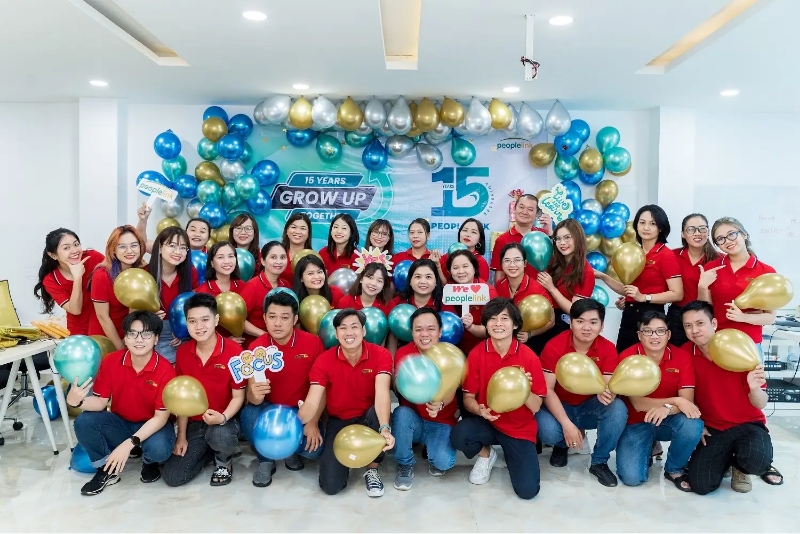 WORLD MODE HOLDING CEO Kafuku with People Link staff.
Signs of a full-fledged recovery in inbound demand. Growing Need for Foreign Human Resources
With the significant easing of waterfront measures for the new Corona virus, and the impact of a weaker yen, there are signs of a full-fledged recovery in inbound travel to Japan. According to data from the Japan National Tourism Organization (JNTO), the number of foreign visitors to Japan in January 2023 will approach 1.5 million, recovering to about 60% of the pre-Corona level of 2019. As before Corona, demand to "visit Japan" is very high, with many tourists from East Asia (excluding China), the U.S., and Southeast Asia coming to Japan ahead of the rest of the world. It is expected that inbound demand will quickly recover with the return of travelers from mainland China, and it is said that inbound consumption will reach 2.1 trillion yen in 2023. While the increase in inbound travelers has brought a boom back to service-related industries, the shortage of human resources to handle the demand is becoming a serious problem. In particular, demand for foreign workers with sales skills is increasing at airports, luxury brands, and outlet stores, where inbound demand is expected to grow.
(Data from Nomura Research Institute, "Economic Effects of the Increase in the Number of Foreign Visitors to Japan due to the Relaxation of Border Control Measures")
Supporting Vietnamese who are active as "global ambassadors" to work in Japan

In March 2023, WMH, together with People Link, a major Vietnamese human resources company under the WMH Group, launched a support service for Vietnamese nationals working in Japan as "global ambassadors" in order to provide retail human resources to meet the needs of the rapidly increasing number of inbound travelers. WMH will launch a support service for Vietnamese nationals working in Japan as "Global Ambassadors" in March 2023. People Link recruits local retail personnel who speak Japanese and English, and WMH recruits them through document screening and interviews, and provides full support for working in Japan, including various procedures (visa application, housing arrangements, flights, etc.) and job placement services. WMH also provides online sales training prior to the trip to Japan to help the candidates smoothly start working in Japan and become active as sales representatives, including training them to be able to handle high-level sales and customer service in the luxury industry and elsewhere in Japan. Vietnamese nationals working as Global Ambassadors will be provided with the same level of employment conditions as Japanese sales staff, and will work at their place of employment as trained personnel.
Recruitment process for "Global Ambassadors
Producing specialists to support the luxury market worldwide
Vietnam is seen as a growing luxury market with an increasing number of high-net-worth individuals and ultra-high-net-worth individuals, and the market size is expected to exceed USD 1 billion by 2025. These affluent Vietnamese are constantly looking for opportunities to spend as well as invest, while luxury brands are beginning to invest more in improving the quality of customer service in their stores. This market growth has led to an increasing number of brands looking to enter or expand their business in Vietnam.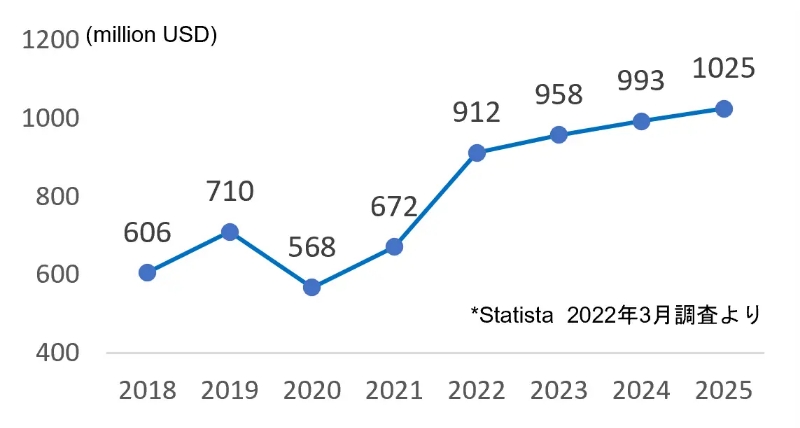 Vietnam Luxury Products Market Trends and Forecasts*.
WMH will employ and train Vietnamese people as global ambassadors, who will work in Japan, gain experience in customer service, and in the future become specialists in customer service and sales to lead the fast-growing Vietnamese luxury market. Our goal is to create such a cycle. WMH, which currently has offices in five countries overseas and provides services centering on employment and human resource development, has a proven track record in cross-border job search support. In Taiwan, where similar services are already provided, many Taiwanese are working in the Japanese luxury market. They are working in a well-developed environment with a full training program and Japanese-standard wages. After returning to Taiwan, they continue to utilize their skills and experience as store managers and sales specialists.
About World Mode Holdings Co., Ltd.
A group specializing in the fashion and beauty industry, providing various solutions such as human resources, digital marketing, and store agency services. 6 domestic operating companies: iDA, BRUSH, AIAD, AIAD LAB, Four Ambition, VISUAL MERCHANDISING STUDIO The group has six domestic operating companies, iDA, BRUSH, AIAD, AIAD LAB, Four Ambition, and VISUAL MERCHANDISING STUDIO, and five overseas offices in Singapore, Australia, Taiwan, Vietnam, and Malaysia, providing highly effective solutions to client issues through the synergy of their highly specialized expertise.
About People Link Joint Stock Company https://www.peoplelinkvietnam.com/en/
People Link Joint Stock Company provides sales and marketing staffing, training, and labor outsourcing services throughout Vietnam. The company provides best practices that take into account different cultural aspects to meet the challenges of its clients' global operations. By valuing people, we bring growth to our clients and build long-term relationships of trust."